I know this Satórday post is coming to you late, and it's not a new chapter of In Lieu of Underwear. I had intended it to be, but I'm here to tell you why it's not.
When I started In Lieu of Underwear, I made the impulsive decision to turn it into a novel that I would be posting a chapter of once a month or every few weeks—I hadn't really decided on a frequency yet at the time. I even wrote Chapter 1 on a whim. You may have read the prequel chapter of ILU (and if you haven't, download it now and read it!). This chapter was originally a self-aware story that I wrote for a survey writing course I took in grad school. I thought I would post it one Satórday for you all to read, so I revised it. And then I decided I didn't want to post it, and I wrote what happened immediately afterward, which involved Lai (my most precious brain child that I have used for role playing for years), and Jess.
I posted Chapter 1 and decided I would update regularly and it would be an okay story.
But I'm a perfectionist, you see, and the reason I didn't have a novel-in-progress with Lai in it was because I know early novels don't tend to get as much success as second and third novels, and he deserved the recognition more than any other character (next in line is Nathaniel, who is the protagonist for Lost Blood which… is on the back burner). So I couldn't just write whatever and have that be his legacy. I know where his story is going. I've already role played some very important experiences for him, and so he's immediately intertwined with the characters of other writers. So I contacted author D.B. Graves, and I said, "You have to help me with this story because I can't do it without you."
This has resulted in at least one multi-hour in-depth voice chat per month regarding the story and where we want it to go and how we want it to get there. It gets better every time, and if you've paid attention to the blurb I've had posted for ILU, you'll have noticed that it's changed a few times as we carve out our plans what's to come. I just printed a bunch of flyers with the newest blurb, and now that's only mostly accurate to the plot we've got in store.
All that said, before Friday, when we had our last conversation about it, I had been listening to Story Grid Podcast, which is a podcast I've admired for years. Story Grid is a book written by Shawn Coyne who has over 25 years of experience as a big publishing editor and has found a way to take a left-brain view of a right-brained activity (writing) and put it into words for us. The podcast is primarily hosted by Tim Grahl who says he's "a struggling writer, trying to figure out how to write a story that works." He chats with Shawn throughout the podcast, and they even go through his story bit by bit, applying the Story Grid framework to it. This is something that I truly appreciate it. While Shawn, on the podcast, will explain an aspect of it, Tim will ask questions from the perspective of a new/struggling writer…because that's what he is! It's as close to being in the same room as Shawn Coyne to ask him your questions as most of us will get.
So one of the major tenets of the Story Grid "system" is that genre is one of the first things you should consider about your story. They get very in-depth, but basically there are many aspects to genre, but the one I became obsessed with last week was the content genre. I wanted to be able to say something like "This is a love story" or "This is an action story." Nice and simple.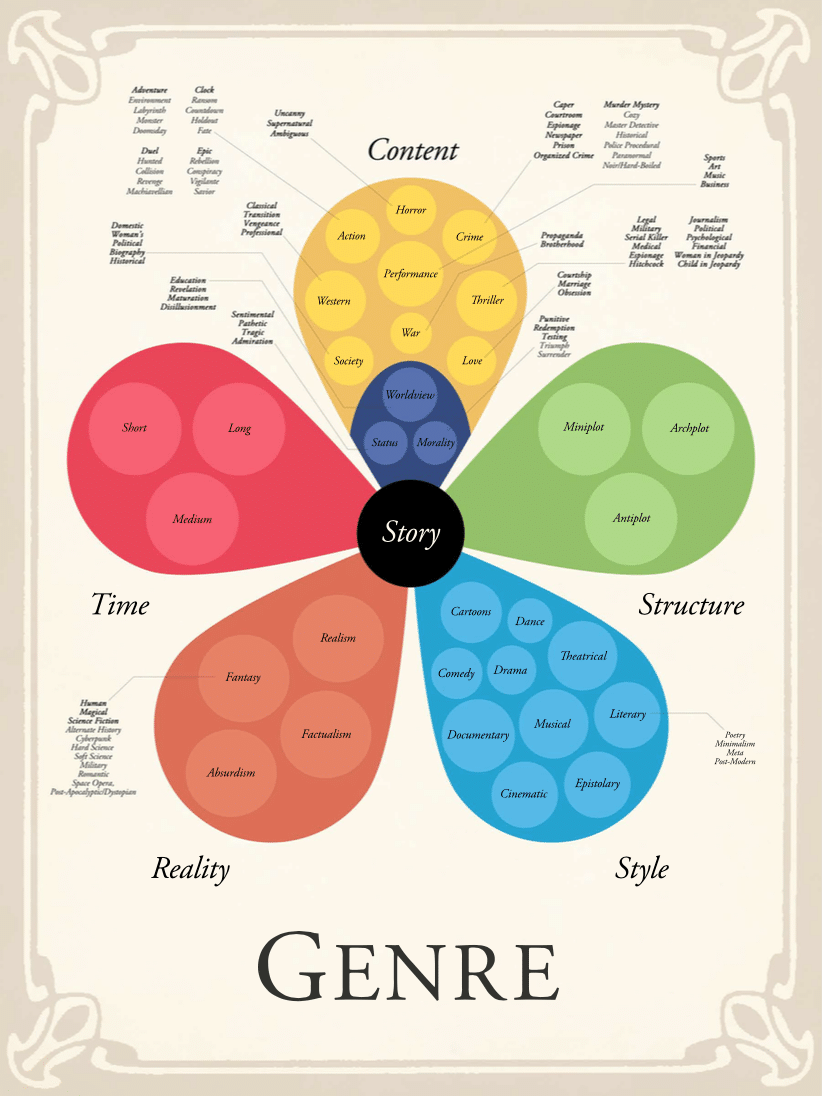 Of course, it was not simple. I read article after article on the Story Grid website trying to decipher what each genre even was before I could try to delineate which ones added up to make my particular story, and whether the ones that it leaned towards were even the kinds of story I wanted to tell. According to Story Grid, the genre is determined in large part by the spectrum of value that the story hinges on, though multiple genres share the same value spectrum. So action, horror, and thriller stories (and maybe more) all have similar value shifts that they must always be focused on, and that is Life/Unconsciousness/Death/Damnation (or a fate worse than death).
On top of that, each story has not just an external content genre (such as love or action), but also an internal content genre (e.g. status, morality, or worldview). Do you need to know all of this? Maybe not. But these are the layers of complication I was wading through on Friday night when I went to work on my story.
So D.B. and I struggled for hours to narrow down the genre, reworked the entire plot, and then we had to disconnect, and I did hours more of genre research afterward.
So what did I determine the genre is? I think we have three genres, but the global genre that determines the course of the story is Worldview. This breaks down into subgenres, and I'm sure it's one of them, but they all sounded like the same thing worded in different ways to me, so I decided to split those hairs later. The next genre is Love, and that is followed by Action. I don't know if you're supposed to order them by importance, but that's what I've done here.
Now with that in mind, I have some things to change about my plans for Chapter 6, and that (along with having a busy day of driving an hour to promote at the event Hearses of Hades in Greenville, IL on Saturday and napping for five hours after driving the hour back), is why there's not a new chapter this weekend. Rest assured, however, that I'm not going to give my boy Lai a bad story, and this kind of delay is in service of his story. I'll spend this week making sure what comes next is worth reading and gets us to the juicier stuff that comes later.
If this doesn't solidify my status as a Plantser, I don't know what does.
Thanks for sticking around. Check out D.B. Graves at their site and @dbgravesauthor on Twitter where they write delicious snippets of beautiful fiction.